About
Auckland Medical History Society
The Auckland Medical History Society (AMHS) was established in 1964 to promote an interest in and knowledge of medical history and encourage preservation of medical historical archives and artefacts.
AMHS which began as a small interest group, has grown over the years to its current membership, where health professionals can benefit from subscribing.
Come along to our speaker presentations which make for an interesting evening. The topics can cover a range of topics related to health history; including biographical life stories of medical pioneers, public health historical issues such as epidemics and preventive medicine and significant medical discoveries and innovations.
You can also become a member and benefit from the Society network and historical documents. Welcome to AMHS!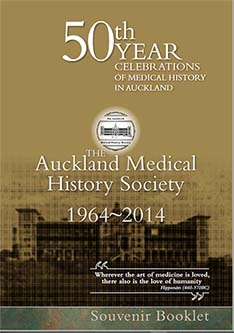 50 Years of History
This publication was created to mark the 50 year anniversary of the Auckland Medical History Society. An interesting read for you about the Society and the archive of medical history topics we have presented in the past. Read more...
Welcome Students
The AMHS welcomes students who are interested in medical history to become a member of the AMHS. Membership is FREE for students with ID. All are welcome to our speaker programme if a topic catches your eye. These evenings are also an opportunity to network with other students and other health professionals. Bring your friends! We also have some events especially for students;
How it all Began
In 1963 Dr Laurie Gluckman wrote "I wish to draw attention to the desirability of fostering or developing a Society of Medical History". A group of interested people met in August 1964 and empowered a sub-committee to develop a set of rules and suggestions for the Society. These were adopted at the Inaugural Meeting in November 1964 and Dr Edward Roche elected first president.